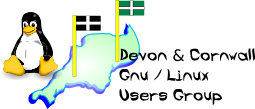 Devon & Cornwall Linux Users' Group
---
[
Date Prev
][
Date Next
][
Thread Prev
][
Thread Next
][
Date Index
][
Thread Index
]
[LUG] Re: Recommendations for IRC client
---
---

> Can anyone recommend an IRC client?
>
> Ideally one that works on Windows and Linux, doesn't use Java, and is
> easy to configure. Afraid I don't usually do IRC, so it remains largely
> a mystery, but now someone is having trouble with a private chat server.

The only one i know that works with bother Windows AND linux would be BitchX
(www.bitchx.org) there is a windows and linux version..

Hope this helps

Neil Stone

--
lug-list - The Mailing List for the Devon & Cornwall LUG
Mail majordomo at lists.termisoc.org with "unsubscribe lug-list" in the
message body to unsubscribe.


---
Lynx friendly