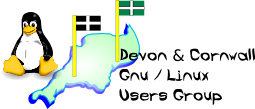 Devon & Cornwall Linux Users' Group
[ Monthly Archives ] [ Search Archives ] [ Search Tips ]
Mailing List Archives
Current Archive
2023 monthly archives
[
Jan
] [
Feb
] [
Mar
] [
Apr
] [
May
] [
Jun
] [
Jul
] [
Aug
] [
Sep
] [
Oct
]
2022 monthly archives
[
Jan
] [
Feb
] [
Mar
] [
Apr
] [
May
] [
Jun
] [
Jul
] [
Aug
] [
Sep
] [
Oct
] [
Nov
] [
Dec
]
2021 monthly archives
[
Jan
] [
Feb
] [
Mar
] [
Apr
] [
May
] [
Jun
] [
Jul
] [
Aug
] [
Sep
] [
Oct
] [
Nov
] [
Dec
]
2020 monthly archives
[
Jan
] [
Feb
] [
Mar
] [
Apr
] [
May
] [
Jun
] [
Jul
] [
Aug
] [
Sep
] [
Oct
] [
Nov
] [
Dec
]
2019 monthly archives
[
Jan
] [
Feb
] [
Mar
] [
Apr
] [
May
] [
Jun
] [
Jul
] [
Aug
] [
Sep
] [
Oct
] [
Nov
] [
Dec
]
2018 monthly archives
[
Jan
] [
Feb
] [
Mar
] [
Apr
] [
May
] [
Jun
] [
Jul
] [
Aug
] [
Sep
] [
Oct
] [
Nov
] [
Dec
]
2017 monthly archives
[
Jan
] [
Feb
] [
Mar
] [
Apr
] [
May
] [
Jun
] [
Jul
] [
Aug
] [
Sep
] [
Oct
] [
Nov
] [
Dec
]
2016 monthly archives
[
Jan
] [
Feb
] [
Mar
] [
Apr
] [
May
] [
Jun
] [
Jul
] [
Aug
] [
Sep
] [
Oct
] [
Nov
] [
Dec
]
2015 monthly archives
[
Jan
] [
Feb
] [
Mar
] [
Apr
] [
May
] [
Jun
] [
Jul
] [
Aug
] [
Sep
] [
Oct
] [
Nov
] [
Dec
]
2014 monthly archives
[
Jan
] [
Feb
] [
Mar
] [
Apr
] [
May
] [
Jun
] [
Jul
] [
Aug
] [
Sep
] [
Oct
] [
Nov
] [
Dec
]
2013 monthly archives
[
Jan
] [
Feb
] [
Mar
] [
Apr
] [
May
] [
Jun
] [
Jul
] [
Aug
] [
Sep
] [
Oct
] [
Nov
] [
Dec
]
2012 monthly archives
[
Jan
] [
Feb
] [
Mar
] [
Apr
] [
May
] [
Jun
] [
Jul
] [
Aug
] [
Sep
] [
Oct
] [
Nov
] [
Dec
]
2011 monthly archives
[
Jan
] [
Feb
] [
Mar
] [
Apr
] [
May
] [
Jun
] [
Jul
] [
Aug
] [
Sep
] [
Oct
] [
Nov
] [
Dec
]
2010 monthly archives
[
Jan
] [
Feb
] [
Mar
] [
Apr
] [
May
] [
Jun
] [
Jul
] [
Aug
] [
Sep
] [
Oct
] [
Nov
] [
Dec
]
2009 monthly archives
[
Jan
] [
Feb
] [
Mar
] [
Apr
] [
May
] [
Jun
] [
Jul
] [
Aug
] [
Sep
] [
Oct
] [
Nov
] [
Dec
]
2008 monthly archives
[
Jan
] [
Feb
] [
Mar
] [
Apr
] [
May
] [
Jun
] [
Jul
] [
Aug
] [
Sep
] [
Oct
] [
Nov
] [
Dec
]
2007 monthly archives
[
Jan
] [
Feb
] [
Mar
] [
Apr
] [
May
] [
Jun
] [
Jul
] [
Aug
] [
Sep
] [
Oct
] [
Nov
] [
Dec
]
2006 monthly archives
[
Jan
] [
Feb
] [
Mar
] [
Apr
] [
May
] [
Jun
] [
Jul
] [
Aug
] [
Sep
] [
Oct
] [
Nov
] [
Dec
]
2005 monthly archives
[
Jan
] [
Feb
] [
Mar
] [
Apr
] [
May
] [
Jun
] [
Jul
] [
Aug
] [
Sep
] [
Oct
] [
Nov
] [
Dec
]
2004 monthly archives
[
Jan
] [
Feb
] [
Mar
] [
Apr
] [
May
] [
Jun
] [
Jul
] [
Aug
] [
Sep
] [
Oct
] [
Nov
] [
Dec
]
2003 monthly archives
[
Jan
] [
Feb
] [
Mar
] [
Apr
] [
May
] [
Jun
] [
Jul
] [
Aug
] [
Sep
] [
Oct
] [
Nov
] [
Dec
]
2002 monthly archives
[
Jan
] [
Feb
] [
Mar
] [
Apr
] [
May
] [
Jun
] [
Jul
] [
Aug
] [
Sep
] [
Oct
] [
Nov
] [
Dec
]
2001 monthly archives
[
May
] [
Jun
] [
Jul
] [
Aug
] [
Sep
] [
Oct
] [
Nov
] [
Dec
]
Older archives
November 2000 to May 2001
our first year,
Oct 99 to Oct 2000
---
Search Archives
---
Archive Search Tips
Please be aware that there are a lot of files to search. To get only the files you actually want, please follow the tips below. Messages listed in the search results will be accompanied by a short abstract to help you find the most relevant messages.
Please enter more than a few words to make your search as specific as possible.
Remember NOT to include the <> brackets or the phrase [LUG] in your search. These terms will be removed before the search begins.
Only select the archive most relevant to your enquiry. If you don't select any archives to search, files in the rest of the LUG site will be searched instead. Searching will take longer for each archive selected.
Abstracts are created from the first 250 characters of an archived message to help you when the subject line of the original message is too brief or not apparently linked to the content.
Use case-sensitive searches whenever you are looking for specific items of hardware, distros, companies, etc. and enter details like the version number or specific type of problem to narrow the search range.
Select the Boolean value OR to search for any of the search terms entered. (Default will only list files that match all search terms.)
Start dates: If you try to search months prior to the start of the archives in October 1999, the October 1999 to October 2000 archive will be searched. Messages archived between November 2000 and May 2001 are also in a single archive. These two archives are not included in the calculations for the number of previous months to include. e.g. if you select a search for June 2001 and 4 previous months, only May and June 2001 will be searched.
GnuPG/PGP signatures are neither searched nor displayed in the search results, although the signatures are preserved in the archives. Other attachments, e.g. text, will be searched.
Lynx friendly