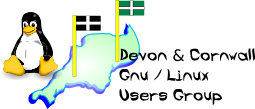 [ Date Index ] [ Thread Index ] [ <= Previous by date / thread ] [ Next by date / thread => ]
Re: [LUG] family hack jam - Barnstaple Apr 20
Subject: Re: [LUG] family hack jam - Barnstaple Apr 20
From: "M. J. Everitt via list" <list@xxxxxxxxxxxxx>
Date: Tue, 21 Mar 2017 11:09:15 +0000
Delivered-to: dclug@xxxxxxxxxxxxxxxxxxxxx
Dkim-signature: v=1; a=rsa-sha256; q=dns/txt; c=relaxed/relaxed; d=dclug.org.uk; s=1475831162; h=Sender:Content-Type:Reply-To:From:List-Subscribe:List-Help:List-Post:List-Unsubscribe:List-Id:Subject:In-Reply-To:MIME-Version:Date:Message-ID:References:To; bh=qNknolyJHTHbPnhReAtSUvba8T5ajkCH1yJcz24Upik=; b=OE9zo9dcaAVAUTx9fYmCY4fGR9uV2HQhiyVX/40+rbruCU+obQYR6YEpBfnLQPQZDKWoWJb7YWtESfyEQpEWYEyw8sip7fsyKE0yoYyY2KdRBbkTdABeaAox6YQr4OI0noPYOMv5+m6VYC46UFlQhOTTXruii0urpoD3GWMpkn8=;
---
On 21/03/17 09:53, Paul Sutton via list wrote:
> Hi
>
>
> Just found this on the Computing at school website
>
>
> http://community.computingatschool.org.uk/events/5027
>
>
> I know there are some members in North Devonso this could be something
> to go along to,   maybe make a few contacts and spread the word about
> the Devon and Cornwall Linux user group too
>
> They have so far sold (well for free) 50 tickets so this potentially
> shows there could be a scope for a regular Tech jam type event in
> Barnstaple,
>
>
> hope this helps
>
> Paul
>
>
Well spotted Paul, will add that to next month's diary and make contact!
A bit of networking can't do any harm can it?! :]
Have sent a message to organisers, but seems all tickets are taken, save
perhaps teachers... ! 50 people is quite a lot - the 'guest list' looks
interesting too... !!

Cheers,

Michael.


Attachment: signature.asc
Description: OpenPGP digital signature
-- 
The Mailing List for the Devon & Cornwall LUG
https://mailman.dclug.org.uk/listinfo/list
FAQ: http://www.dcglug.org.uk/listfaq

---