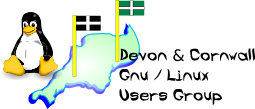 [ Date Index ] [ Thread Index ] [ <= Previous by date / thread ] [ Next by date / thread => ]
Re: [LUG] Holsworthy Meeting
Subject: Re: [LUG] Holsworthy Meeting
From: "M. J. Everitt via list" <list@xxxxxxxxxxxxx>
Date: Wed, 15 Feb 2017 09:32:48 +0000
Delivered-to: dclug@xxxxxxxxxxxxxxxxxxxxx
Dkim-signature: v=1; a=rsa-sha256; q=dns/txt; c=relaxed/relaxed; d=dclug.org.uk; s=1475831162; h=Sender:Content-Type:Reply-To:From:List-Subscribe:List-Help:List-Post:List-Unsubscribe:List-Id:Subject:In-Reply-To:MIME-Version:Date:Message-ID:References:To; bh=cw02qUOIQWz7409hOZHyDXX4b6LkHSvP1yvNuoSqw8c=; b=kEro4bzH6zikN3z1z2Kco3R7obOqsHED0ZVljdLblqOvw4G0fWk/yq2Yy3JnSC6+o6+rbKPwoSLL2O0TIEhFfNzOb0lcIaLEcP77sXkHMq48H/lH1NOLMmp8CjEy5yfHczXsuMEWM4+YEGKZMBTsZxvMhumxvxT5ZCLWy1uhqtU=;
Openpgp: id=BA266E0525CFAB101523351B4C30334F93C22371
---
On 15/02/17 09:05, Neil via list wrote:
> These weeks go too quickly. The next meeting for the Holsworthy group
> is coming up next Saturday, 18th February. Usual place, usual time.
>
> Hope to see someone,
>
> Neil
>
Should be there this time, have talked myself out of the alternatives(!)

Anyone else from the list want to visit?! Jo, Andy ... ?! :D

Best regards,

Michael.


Attachment: signature.asc
Description: OpenPGP digital signature
-- 
The Mailing List for the Devon & Cornwall LUG
https://mailman.dclug.org.uk/listinfo/list
FAQ: http://www.dcglug.org.uk/listfaq

---