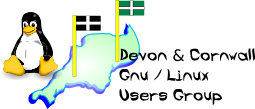 [ Date Index ] [ Thread Index ] [ <= Previous by date / thread ] [ Next by date / thread => ]
[LUG] Meetup.com
To: Devon & Cornwall GNU / Linux Users Group <list@xxxxxxxxxxxx>
Subject: [LUG] Meetup.com
From: Steve Amor via list <list@xxxxxxxxxxxxx>
Date: Mon, 16 Jan 2017 10:20:49 +0000 (UTC)
Delivered-to: dclug@xxxxxxxxxxxxxxxxxxxxx
Dkim-signature: v=1; a=rsa-sha256; q=dns/txt; c=relaxed/relaxed; d=dclug.org.uk; s=1475831162; h=Sender:Content-Type:Reply-To:From:List-Subscribe:List-Help:List-Post:List-Unsubscribe:List-Id:Subject:References:MIME-Version:Message-ID:To:Date; bh=CY0niVK0t/tUdJYCNT2XBBa05Sj2FFtAfzb4jDvbcQk=; b=AHdt4RWFYbFTdvc17KTIRCW4+dkeVpYRGAqQMjOJFUBa8nxUotndUIdxpHqYi/qLFpRGNlxNA2gU7N6JfWoo+kHveatK+8b0W42Qrg9y3StbyemnNC1OSwSBBag049KK2kurEt5mVq3EbBS82TYFqFJDa1V3hvj8bMqR6qYq5KI=;
Dkim-signature: v=1; a=rsa-sha256; c=relaxed/relaxed; d=talk21.com; s=s2048; t=1484562050; bh=EBtvS9/zCWuV7HSXaKZSF4NNur3mH7QsJZAANU7G6jA=; h=Date:From:Reply-To:To:Message-ID:Subject:MIME-Version:Content-Type:References; b=LDLRd9gRzKDZrAQ0/oDCYmbr5gTkdlRHZWfljiQoTmskeUeRmpYQhb/+0yKDFhY/Q/ySC5x1RpM549Mkp71iT5Yog2LBnHJCpPNCP+I5Fuco3Rtafmc1OpaSF8M5F1dZ6R5XIYk+7DBWrzVtlimTXKw1oy4ocVnniq8DPm0erN99uBODMSJtmZJl9V5jfNcVGj5UCxV2HJMRYxpzLHni7wZtF/GSFesliLs2c3laI373QGdFeiuQE7YjrrWxIpnOkfI4Kf8bFDWQirn2JUkL68fiB0bAFJnbzhKEmuCWWJWXjP7jne3ceT/24qA9MYh1lwivFK2doVcMSctRMIw7wA==
---
All,
there's quite a bit of geeky stuff going on in Devon and Cornwall which is posted on meetup.com
I put events on there and occasionally post the information on this dclug mailing list.
Well worth signing up to and perhaps posting some of the events on that, that get posted here.
Here's a couple of examples of past events in Cornwall:
Digital Chinwaggers

A group for like-minded digital/creative types from in and around the Bude area. We're aiming to meet once a...
Cornwall Digital Meetup Group

This is a meetup group for people in the software, IT and associated digital industries in Cornwall. The main ai...
Cheers,
Steve.
-- 
The Mailing List for the Devon & Cornwall LUG
https://mailman.dclug.org.uk/listinfo/list
FAQ: http://www.dcglug.org.uk/listfaq

---