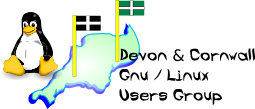 [ Date Index ] [ Thread Index ] [ <= Previous by date / thread ] [ Next by date / thread => ]
Re: [LUG] recommended remote system upgrade method
To: Devon/Cornwall GNU LUG <list@xxxxxxxxxxxxx>
Subject: Re: [LUG] recommended remote system upgrade method
From: Tom <madtom1999@xxxxxxxxxxxxxx>
Date: Sun, 03 Nov 2013 11:50:29 +0000
Delivered-to: dclug@xxxxxxxxxxxxxxxxxxxxx
Dkim-signature: v=1; a=rsa-sha256; c=relaxed/relaxed; d=googlemail.com; s=20120113; h=message-id:date:from:user-agent:mime-version:to:subject:references :in-reply-to:content-type:content-transfer-encoding; bh=nyKyrQzKxSHiI0hFvnX49i9cXMW/Xdn0pmVSy+b/fNs=; b=n0bCwXFrjbUbCUWDMOMPQVVxDnZbSNL5GGhU8KoRagDy4z48Van3uODAoTEEydO6M1 hS/ck1pU0M3YmOZktycM4L9GHoYYOpdM9i5JdosC+krvYKz3JEg5H3bvlxHx+03awR5j FntT8f0/PGy3xqTfbn6k/3wMoUryVCiU7q5R4aobEu7rVBAy1vELvC/JUD/ZnojWIYmp tBaoroDkxeazoPYfNo00vnZ33YA6tFfYGUdYORUWURbgXH7DVw4vw6+Gw6/8oYvW3EkG SB554O4WA4zAAqymT6Osv9odNGiXff6IQvJBjRc6PcAtvKKn9tnTpCYuGPNsP6KDxR1A 7IhQ==
---

On 03/11/13 11:28, Tom wrote:

I've just successfully upgraded an xubuntu server over ssh but the process recommend not using ssh and starts another ssh session in case the other fails. I've had this warning before but no problems. Is there a recommended secure way of doing this or is this just an overwarning?


Tom te tom te tom

Cancel that - just discovered the upgrade app can work out its on ssh but too dumb to work out its in screen anyway!

Tom te tom te tom

--
The Mailing List for the Devon & Cornwall LUG
http://mailman.dclug.org.uk/listinfo/list
FAQ: http://www.dcglug.org.uk/listfaq


---