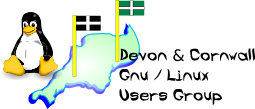 [ Date Index ] [ Thread Index ] [ <= Previous by date / thread ] [ Next by date / thread => ]
Re: [LUG] python versions
Subject: Re: [LUG] python versions
From: Steven CÃtà <steven.cote@xxxxxxxxx>
Date: Wed, 28 Jul 2010 09:47:53 +0100
Delivered-to: dclug@xxxxxxxxxxxxxxxxxxxxx
Dkim-signature: v=1; a=rsa-sha256; c=relaxed/relaxed; d=gmail.com; s=gamma; h=domainkey-signature:mime-version:received:received:in-reply-to :references:date:message-id:subject:from:to:content-type; bh=k/P198FcDa4qolCDBw552Wuqpr/b4zPBF0zeNpCjrho=; b=Q/KmcJ+CktGR9duC0kyCAx64aCwlPqoA3IDF7GiDkNBT+ps90+LGGXTYRaAL0DbRMU 1OzTsKihDBjhi8R9J7l7FspVZh1jOuQPUPZoMnd7qzSXZ68ZrNBg2EdO/BaqzJcvROM6 wZ1nFqob1qq2Vmn2vaBYOVtMlZ5RKAnJnzpSg=
---
I have both python v2 and python v3 installed. When I just type in 'python' into a terminal screen I get v2. I need to enter 'python3' to get the newer version. I seem to remember that there is a way to make the 'python' instruction find the newer version automatically.


If you're on Ubuntu (or presumably another debian derivative) there's the update-alternatives comand:

# update-alternatives --config python

That'll give you a list of the versions installed and let you select the default.

-- 
The Mailing List for the Devon & Cornwall LUG
http://mailman.dclug.org.uk/listinfo/list
FAQ: http://www.dcglug.org.uk/listfaq

---