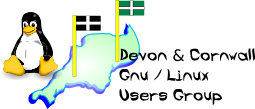 [ Date Index ] [ Thread Index ] [ <= Previous by date / thread ] [ Next by date / thread => ]
Re: [LUG] 'Open' facebook alternative gets money ..
Subject: Re: [LUG] 'Open' facebook alternative gets money ..
From: Dan Dart <dandart@xxxxxxxxxxxxxx>
Date: Sun, 6 Jun 2010 17:22:38 +0100
Delivered-to: dclug@xxxxxxxxxxxxxxxxxxxxx
Dkim-signature: v=1; a=rsa-sha256; c=relaxed/relaxed; d=googlemail.com; s=gamma; h=domainkey-signature:mime-version:received:received:received :in-reply-to:references:date:message-id:subject:from:to:content-type; bh=v3MsSYSRZaV9mvm3ZVhEZMZ4sC88f273ut3K7JENtX0=; b=PV1zAhmLCwNAMOnTe//eSSvW6fsJ0QBYpN+j3QgDxXxtNUMDjqxJvSh4Q4aHCXnPNj 97nvWQ3qTlf22liH0ZErCCcKQg/tFMDLe35qhc5XUg5FLm2o3ad/42e7JCKpDk8VLo/U OwQYPwsSC0XNXAWRTYI7aPl5vDSCsLIsqJL5U=
---
Bibud will have to move quickly to innovate as some of its aims are similar to this one's.
Sorry for html, it's Android's fault.
On 4 Jun 2010 10:08, "Julian Hall" <linux@xxxxxxxxxxxx> wrote:



On 04/06/2010 09:05, Gordon Henderson wrote:
>
>
> http://news.bbc.co.uk/1/hi/technology/10225455.st...

The key to their success will be:

a) How well they keep in the public eye until launch.
b) Their ability to focus attention on their privacy rules.

If they hit those buttons then they could ride the wave of dissatisfaction with Facebook's lackadaisical approach to our privacy.

Julian



--
The Mailing List for the Devon & Cornwall LUG
http://mailman.dclug.org.uk/listinfo/list
FAQ: h...
-- 
The Mailing List for the Devon & Cornwall LUG
http://mailman.dclug.org.uk/listinfo/list
FAQ: http://www.dcglug.org.uk/linux_adm/list-faq.html

---