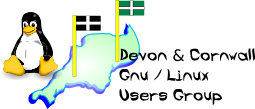 [ Date Index ] [ Thread Index ] [ <= Previous by date / thread ] [ Next by date / thread => ]
Re: [LUG] ubuntu 9.04 + gnome screen error
---

Paul Sutton wrote:


-----BEGIN PGP SIGNED MESSAGE-----
Hash: SHA1

Rob Beard wrote:



tom wrote:



Paul Sutton wrote:



-----BEGIN PGP SIGNED MESSAGE-----
Hash: SHA1

http://imagebin.org/89424

just got the above, come up,  not sure what triggered it, but I can't
click on desktop,  i can click menus and load programs

i can't change the background using preferences
can't even click, its just a white space.

just wondered if anyone has come across this sort of thing.



click system/preferences/special effects
set it to none
Tom te te tom





Special effects?

Do you mean Compiz?

That'll be under Appearance.

By the way Paul, if you're wanting to upgrade to 10.04 you're going to
have to upgrade to 10.04 first.

Rob




you mean upgrade to 9.10 then to 10.04

Yeah, you can go from 8.04 LTS to 10.04 LTS and 9.10 to 10.04 LTS but any other version you'd need to upgrade a couple of times. So if you're on 8.10, you'd have to go to 9.04 to 9.10 to 10.04 LTS but if you're say on 7.10 you can go to 8.04 LTS and then to 10.04 LTS.
Or you could just blat everything and reinstall from scratch (making sure you either make a backup of anything important or maybe by keeping everything in /home and maybe /etc). I gather the installer is also intelligent enough to pick out the data and remove everything else, not tried it myself though.

i have fixed the above problem need to re run nautilus from the box that
comes up with alt-f2



That's good.  Wonder why it's crashing.


it seems if i do xkill then click the desktop it indeed kills nautilus,
but that is meant to happen.

Um... yeah, I think things like the desktop icons are part of nautilus but the I believe the window manager is either metacity or compiz.


Rob





--
The Mailing List for the Devon & Cornwall LUG
http://mailman.dclug.org.uk/listinfo/list
FAQ: http://www.dcglug.org.uk/linux_adm/list-faq.html


---