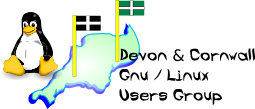 [ Date Index ] [ Thread Index ] [ <= Previous by date / thread ] [ Next by date / thread => ]
Re: [LUG] Software RAID-1 on USB drives
Subject: Re: [LUG] Software RAID-1 on USB drives
From: Gordon Henderson <gordon+dcglug@xxxxxxxxxx>
Date: Wed, 21 Oct 2009 10:41:30 +0100 (BST)
Distribution: world
---

On Tue, 20 Oct 2009, ste@xxxxxxxxxxxxxxxxx wrote:



2 USB drives where periodically rsync is run to duplicate drive 1 onto
drive 2.  Drive 1 is static, drive 2 (should) get removed every evening
and taken off-site.

If the two drives were setup in a software-based RAID-1 (mirror)
configuration, would they automatically reconcile any differences when
drive 2 was re-attached?  If not, how can differences between two
software RAID-0 drives be reconciled?  Is there a command that initiate
the reconciliation?  Can this be added to a udev rule so that when
drive 2 is re-attached the reconciliation happens automatically?



--snip--

Interesting. I guess you could do that, but I'm not sure why you'd want
to. Why are you taking the redundant disk off site? This smells a bit like
the old backup vs redundancy confusion. Any way, maybe LVM snapshots are
what you really want? They'll let you capture a whole, consistent
filesystem image while it's still in use.

It's not an un-common scenario. You satisfy the google requirement of 3 copies and 1 is off-site... LVM, while nice, just gets in the way and adds to the complication factor.


Gordon

--
The Mailing List for the Devon & Cornwall LUG
http://mailman.dclug.org.uk/listinfo/list
FAQ: http://www.dcglug.org.uk/linux_adm/list-faq.html




---