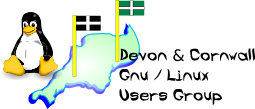 [ Date Index ] [ Thread Index ] [ <= Previous by date / thread ] [ Next by date / thread => ]
Re: [LUG] linux in small business
Subject: Re: [LUG] linux in small business
From: Gordon Henderson <gordon+dcglug@xxxxxxxxxx>
Date: Tue, 13 Oct 2009 07:35:18 +0100 (BST)
Distribution: world
---

On Tue, 13 Oct 2009, Paul Sutton wrote:


Load time aside, i have just found this, it seems to relate to the chat we had at our last meet or on a similar topic at least.



http://www.linux.com/news/featured-blogs/168-brian-proffitt/126432-bringing-linux-to-small-business



Interesting.


Some years back when I was involved with a broadband project in Buckfastleigh, we had a survey which showed 200 small businesses in the parish... That's out of 1800 homes! Now we do have a small industrial estate (and a few bigger notable companies such as the Abbey and Axminster carpets), but that still leaves a high portion of smaller "cottage industries"..
And I also have the opportunity to tout Linux in a local project too - our town Information Centre is creating a museum and "Family History Room" with PCs/Internet access for public use and as the one who'll be managing it, I'm really tempted to buy commercial PCs with Win7 installed, and make them dual-boot with Linux the default OS. Then see how the punters get on. I'm not overly worried that I'm still contributing to the Redmond empire - the PCs I'm looking at are under £400 inc vat and the MS tax, although I will be recycling 1 or 2 older ones which already have XP licenses on.
Another almost local project is a customer of mine - a charity - who're looking at a new database system for their shops, etc. I'm trying to push them OS, but it would mean I'd have to write their database for them - however I may throw it to the floor if I don't have the time - there won't be much money in it though.. I'mm meeting them this week to talk about it.


Gordon
-- 
The Mailing List for the Devon & Cornwall LUG
http://mailman.dclug.org.uk/listinfo/list
FAQ: http://www.dcglug.org.uk/linux_adm/list-faq.html

---