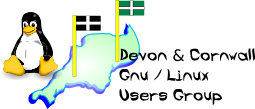 [ Date Index ] [ Thread Index ] [ <= Previous by date / thread ] [ Next by date / thread => ]
Re: [LUG] OT: Mac verses PC
Subject: Re: [LUG] OT: Mac verses PC
From: "Ben Goodger" <goodgerster@xxxxxxxxx>
Date: Wed, 31 Jan 2007 13:55:05 +0000
---
On 31/01/07, William Fidell <william@xxxxxxxxxxxx> wrote:


Richard Brown wrote:
> Hi Guys
>
> Totally off-topic but you might or might not have seen the USA Mac v
> PCs adverts. Well now there are British ones!
>
> < http://www.apple.com/uk/getamac/ads/>
>
> Enjoy and comment!


Just been commenting on them in the office (a share of macs, windows and
linux) we all found them amusing but doesn't apple's advertising always
come across as slightly smug?

Smug but accurate, TBH. Apple can afford smugness, since they made the intelligent decision to switch to UNIX a long time before Microsoft (ten years, presuming MS will get the message next year.)



--
Ben Goodger
#391382
---------------------

Mi admiras religiajn; ili estas fine ebliĝinta solvi la maljunegan demandon "kiel oni povas vivi sencerbe?".
It is well-known that I am blunt and unsophisticated. It's largely your fault if you object to this.
-- 
The Mailing List for the Devon & Cornwall LUG
http://mailman.dclug.org.uk/listinfo/list
FAQ: http://www.dcglug.org.uk/linux_adm/list-faq.html

---