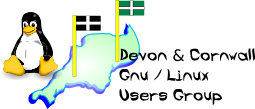 [ Date Index ] [ Thread Index ] [ <= Previous by date / thread ] [ Next by date / thread => ]
Re: [LUG] Another Cornwall meeting?
Subject: Re: [LUG] Another Cornwall meeting?
From: "Ben Goodger" <goodgerster@xxxxxxxxx>
Date: Thu, 25 Jan 2007 09:42:32 +0000
---
On 25/01/07, james kilty <james@xxxxxxxxxxxxxxxxx> wrote:
On Wed, 2007-01-24 at 15:52 +0000, Ben Goodger wrote:

> BTW, Mr Kilty - please remove the HTML from your email, it looks
> unsightly.
Is this on aesthetic grounds or does it muck up the layout? It looks OK
when it comes to me. I realise Lists often prescribe text and will do so
as long as I remember especially since for this type of communication,
simple html adds nothing. I cannot find a way to set the List to receive
text only from Contacts. Is there a way other than resetting all emails
to text and sending html where it has been requested?

Depends on your email client. Evolution has this facility, and I think Thunderbird does also.



--
Ben Goodger
#391382
---------------------

Mi admiras religiajn; ili estas fine ebliĝinta solvi la maljunegan demandon "kiel oni povas vivi sencerbe?".
It is well-known that I am blunt and unsophisticated. It's largely your fault if you object to this.
-- 
The Mailing List for the Devon & Cornwall LUG
http://mailman.dclug.org.uk/listinfo/list
FAQ: http://www.dcglug.org.uk/linux_adm/list-faq.html

---