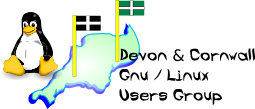 [ Date Index ] [ Thread Index ] [ <= Previous by date / thread ] [ Next by date / thread => ]
Re: [LUG] PDF's and the paperless office - well NVU really
Subject: Re: [LUG] PDF's and the paperless office - well NVU really
From: "Ben Goodger" <goodgerster@xxxxxxxxx>
Date: Wed, 10 Jan 2007 20:36:03 +0000
---
On 10/01/07, John Palmer <johnp@xxxxxxxxxxxxxxxxxxx> wrote:
What I always ask about these wysiwyg html editors is --- do they
generate HTML (or CSS) that passes the W3C validator ?

I believe that Nvu does while Frontpage and Dreamweaver don't. However, NVU likely doesn't generate very nice code...



--
Ben Goodger
#391382
---------------------

Mi admiras religiajn; ili estas fine ebliĝinta solvi la maljunegan demandon "kiel oni povas vivi sencerbe?".
It is well-known that I am blunt and unsophisticated. It's largely your fault if you object to this.
-- 
The Mailing List for the Devon & Cornwall LUG
http://mailman.dclug.org.uk/listinfo/list
FAQ: http://www.dcglug.org.uk/linux_adm/list-faq.html

---