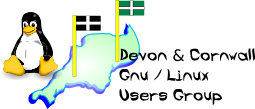 [ Date Index ] [ Thread Index ] [ <= Previous by date / thread ] [ Next by date / thread => ]
[LUG] OT openoffice release dates
Subject: [LUG] OT openoffice release dates
From: Paul Sutton <zen14920@xxxxxxxxx>
Date: Sun, 08 May 2005 22:45:14 +0100
---
Just got this through from the oo.org users mailing list and thought it would be of interest to the lug.
Here are the planned dates (from  :
http://development.openoffice.org/releases/OpenOffice_org_2_x.html)
March 2005: OOo 2.0 Beta
May 2005 : OOo 2.0
May 2005: OOo 2.0 rc
June 2005 : OOo 2.0
Q3 2005: OOo 2.0.1
--
I am not too sure what the difference is between may 2005: OOo 2.0 and
June 2005 : OOo 2.0, with a rc in the middle, (I know rc is relase candidate).
Paul
PAIGNTON RUGBY CLUB ARE LOOKING FOR SPONSORS.
Options include Ball, and match sponsorship, Team Sponsorship
and advertising banners which last the whole season (September - May 1st)
Please visit.
www.paigntonrugby.co.uk - click sponsorship for details.
Linux -
Free your mind, save money, Use Linux and open source.
Open source,  don't get left in the dark ages, migrate now.
www.linux.org

--
The Mailing List for the Devon & Cornwall LUG
Mail majordomo@xxxxxxxxxxxxx with "unsubscribe list" in the
message body to unsubscribe. FAQ: www.dcglug.org.uk/linux_adm/list-faq.html


---