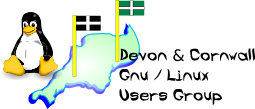 [ Date Index ] [ Thread Index ] [ <= Previous by date / thread ] [ Next by date / thread => ]
Re: [LUG] magazines
Subject: Re: [LUG] magazines
From: Rob Beard <rob@xxxxxxxxxxxxx>
Date: Sun, 02 Jan 2005 20:00:31 +0000
---
Paul Sutton wrote:
Hi

Is anyone interested in any older issues of Linux format, as I still have some and the thread has gone quiet, just like to say that these are still available to anyone who wants them. As I mentioned before I have issues 1 -13 plus loads of others plus the DVD/CDroms that came with them.

Paul

I'd still be interested, just been a bit busy over christmas.
Rob
--
No virus found in this outgoing message.
Checked by AVG Anti-Virus.
Version: 7.0.298 / Virus Database: 265.6.7 - Release Date: 30/12/2004

--
The Mailing List for the Devon & Cornwall LUG
Mail majordomo@xxxxxxxxxxxx with "unsubscribe list" in the
message body to unsubscribe.
---