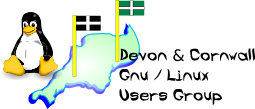 Devon & Cornwall Linux Users' Group
[ Date Index ][ Thread Index ]
[ <= Previous by date / thread ] [ Next by date / thread => ]
[LUG] Debian
---
---
Hi Guys
Sorry just thought I'd repeat the question! Can anybody help me with getting bootable floppys for Debian? And does anybody have an old network card they might sell?
I will cover all costs.
Thanks
Rich
www.littlebigfoot.org.uk
"How beautiful on the mountains are the feet of the messenger bringing good news." Isaiah 52 v 7 (The Message)

--
The Mailing List for the Devon & Cornwall LUG
Mail majordomo@xxxxxxxxxxxx with "unsubscribe list" in the
message body to unsubscribe.
---
Lynx friendly