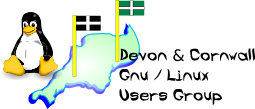 Devon & Cornwall Linux Users' Group
[ Date Index ][ Thread Index ]
[ <= Previous by date / thread ] [ Next by date / thread => ]
Re: [LUG] OT: Web site
---
---
On Thu, 30 Sep 2004 05:24:42 +0100
Richard Brown <rich@xxxxxxxxxxxxxxxxxxxx> wrote:



I am now running the website on a mysql/php server and it has gone 
through a few modifications. So for those who suggested a few changes, 
please take a look. I have built it using a package from 
http://wordpress.org. It is a very good package and really does just 
work out of the box. I am most impressed. Anyway comments please would 
be great.



Rich,

Had a quick look- looks a lot more professional IMHO. Well done.

I may even try it myself one day........


Terence

--
The Mailing List for the Devon & Cornwall LUG
Mail majordomo@xxxxxxxxxxxx with "unsubscribe list" in the
message body to unsubscribe.



---
Lynx friendly