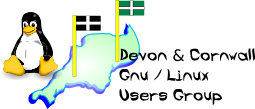 Devon & Cornwall Linux Users' Group
[ Date Index ][ Thread Index ]
[ <= Previous by date / thread ] [ Next by date / thread => ]
RE: [LUG] Corporate Takeover?
---
---
Keith Abraham reported:



http://www.theregister.co.uk/2004/09/28/internet_end_nigh/

Would'nt this be another way of locking the naive
user into the corporate prison?



"The internet is dead, or dying; it's full of viruses, worms and porn, you
have to wear a kevlar suit before you go online," he said. "BT is creating a
private network, which will be joined to other private networks, to which we
will add voice over IP."

If it don't carry pr0n, it won't catch on!

Martin

--
The Mailing List for the Devon & Cornwall LUG
Mail majordomo@xxxxxxxxxxxx with "unsubscribe list" in the
message body to unsubscribe.



---
Lynx friendly