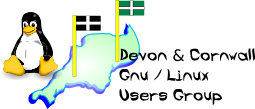 Devon & Cornwall Linux Users' Group
[ Date Index ][ Thread Index ]
[ <= Previous by date / thread ] [ Next by date / thread => ]
[LUG] NFS client for Microsoft
---
---
Hi all;

Samba is performing rather well on the school network (am seriously
considering decomissioning Win2K server entirely, if only Bill would
refund our educational licenses), and it struck me that the ideal solution
would be to mount NFS drives natively on our Win2K & WinXP client PCs.

Does anyone know of any Free/Open NFS clients which exist for Windows? I'd
rather not reduce the already miniscule IT budget by purchasing the
Win2k/WinXP resource kit, which does have "Unix interoperability tools".

Google was rather unhelpful on this matter, or rather, I couldn't squeeze
the above two paragraphs into succinct search terms.. (that's friday
afternoons I suppose).

TIA;
Jeremy

-- 
Jeremy Pearson
ICT Technician
Five Islands School, St Marys, Isles of Scilly, TR21 0JY
Tel: 01720 422929 Fax: 01720 422969
jeremy@xxxxxxxxxxxxxxxxx


--
The Mailing List for the Devon & Cornwall LUG
Mail majordomo@xxxxxxxxxxxx with "unsubscribe list" in the
message body to unsubscribe.



---
Lynx friendly