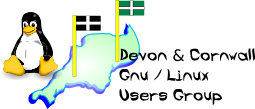 Devon & Cornwall Linux Users' Group
[ Date Index ][ Thread Index ]
[ <= Previous by date / thread ] [ Next by date / thread => ]
Re: [LUG] BTinternet Connection
---
---
On Thursday 09 September 2004 10:22, aaron Moore wrote:

Hi
Can anyone offer advice on connecting to the internet with BT
Broadband.  They have given me a BT Voyager 105 USB ADSL modem and I
am running Suse 9.1 



There's a tutorial here which may help:
http://eciadsl.flashtux.org/tutorial.php?lang=en

It's not for your specific modem, but for the Voyager 100 so it may or may not 
work.

According to the stuff I've found on Google, if that driver doesn't work then 
there is no Linux support at all for the modem....

Regards,
David.

-- 
David Johnson
http://www.david-web.co.uk/
http://www.penguincomputing.co.uk/

--
The Mailing List for the Devon & Cornwall LUG
Mail majordomo@xxxxxxxxxxxx with "unsubscribe list" in the
message body to unsubscribe.



---
Lynx friendly