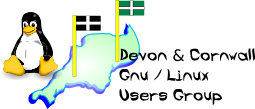 Devon & Cornwall Linux Users' Group
[ Date Index ][ Thread Index ]
[ <= Previous by date / thread ] [ Next by date / thread => ]
Re: [LUG] Tape Backups
---
Subject: Re: [LUG] Tape Backups
From: Dave Trudgian <dave@xxxxxxxxxxxx>
Date: Wed, 14 Apr 2004 16:39:48 +0100
Content-description: clearsigned data
Content-disposition: inline
Reply-to: list@xxxxxxxxxxxx
---
-----BEGIN PGP SIGNED MESSAGE-----
Hash: SHA1

David Pithouse wrote:


hmmm maybe it is about time I started to backup my dissetration...
couple of CD's maybe a DVD if you've got a burner. Or even another
computer/hard drive. On the termisoc servers for the backup we just copy
off /home and /var once a week and during the week just the files moded
on that day. Can send you a copy of the bash scripts which are used for
it if you want it's just a bunch of cp's, tars and greps.



Sorry, my original mail wasn't massively clear... I already have scripts to 
backup /home, /etc and /usr/local to tape and a second machine's hdd using 
afio and tar over nfs respectively.

I'm trying to find a solution for backups to tape once I go over the 12Gb of 
data that one tape can take, i.e. incremental backups with something like 
taper, tob or amanda that also has multiple voume support for full backups 
over the tape's native capacity.

I'm not a big fan of CDRs for backup any more due to the volume of data I 
have.

- -- 
Dave Trudgian - Cornish Dave
- ----------------------------
[w] www.trudgian.net
[e] dave@xxxxxxxxxxxx
[j] trudgiad@xxxxxxxxxxxxxxx

-----BEGIN PGP SIGNATURE-----
Version: GnuPG v1.2.4 (GNU/Linux)

iD8DBQFAfVtGt+PdOLWW6O4RAgQwAJ43Ywm0Y/9PkLbQ/7Nd4MdLKIAMHACfQzWb
oH6/b3ddzojchdX9aHgmKkQ=
=njNG
-----END PGP SIGNATURE-----


--
The Mailing List for the Devon & Cornwall LUG
Mail majordomo@xxxxxxxxxxxx with "unsubscribe list" in the
message body to unsubscribe.



---
Lynx friendly