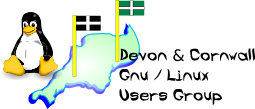 Devon & Cornwall Linux Users' Group
[ Date Index ][ Thread Index ]
[ <= Previous by date / thread ] [ Next by date / thread => ]
[LUG] Sparcstation 20 stuff possibly for sale
---
Subject: [LUG] Sparcstation 20 stuff possibly for sale
From: Dave Trudgian <dave@xxxxxxxxxxxx>
Date: Tue, 6 Apr 2004 14:00:33 +0100
Content-description: clearsigned data
Content-disposition: inline
Reply-to: list@xxxxxxxxxxxx
---
-----BEGIN PGP SIGNED MESSAGE-----
Hash: SHA1

Hi all,

On the off chance that anyone has a sparc 4/5/20 system out there I will 
probably have some bits available soon.

I'm converting my SS20 firewall and web/mail servers to boot NFS root from my 
PC based NFS server (less noise, less heat in the sparcs, more disk space) so 
will have the following things redundant if it succeeds:

2 * 2Gb SCA HDDs in Sparc brackets

1 * SBUS Ethernet card (can't remember whether it is a fast ethernet, will 
check if there is interest.

If anyone fancies any of this then let me know.... as I mentioned, it's 
subject to getting NFS root working properly.

Cheers,

- -- 
Dave Trudgian - Cornish Dave
- ----------------------------
[w] www.trudgian.net
[e] dave@xxxxxxxxxxxx
[j] trudgiad@xxxxxxxxxxxxxxx

-----BEGIN PGP SIGNATURE-----
Version: GnuPG v1.2.4 (GNU/Linux)

iD8DBQFAcqn0t+PdOLWW6O4RAsuFAJ4hbfHb1HUbk9eCq4KGqaZfRewNNwCfYbP+
lEbd1hfz/ED2J8zzcdXR6aw=
=tbrX
-----END PGP SIGNATURE-----


--
The Mailing List for the Devon & Cornwall LUG
Mail majordomo@xxxxxxxxxxxx with "unsubscribe list" in the
message body to unsubscribe.



---
Lynx friendly