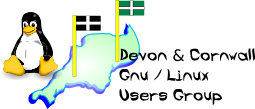 Devon & Cornwall Linux Users' Group
[ Date Index ][ Thread Index ]
[ <= Previous by date / thread ] [ Next by date / thread => ]
RE: [LUG] User limits
---
---

>Any idea why when it has a certain number/size of files on it. It then
refuses to allow any more?

Hello and welcome.

If its not quotad then my guess is its probably something set with ulimit
(man bash for details). This limits the amount of processing / io a users
shell can do (useful for dealing with runaway scripts etc.). Check the users
profile files to see if these have been set (eg ~/.bash_profile if its a
bash shell user)

Tom.

Information in this message is confidential and may be legally privileged.
It is the intended solely for the person ( or persons) to whom it is
addressed. If you are not the intended recipient, please notify the sender,
and please delete the message from your system immediately. The views in
this message are personal, they are not necessarily those of Torbay Council.




--
The Mailing List for the Devon & Cornwall LUG
Mail majordomo@xxxxxxxxxxxx with "unsubscribe list" in the
message body to unsubscribe.


---
Lynx friendly