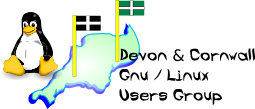 Devon & Cornwall Linux Users' Group
[ Date Index ][ Thread Index ]
[ <= Previous by date / thread ] [ Next by date / thread => ]
[LUG] Save as box
---
---
Hi everyone,
I would like to be able to save documents and downloads to a partition on my hard drive that I use just for data
so that when I backup I just save the whole partition.This has never been a problem on windows but on SuSE 8.2 personal I find there is no option in the save as box to select other drives.My only options are Desktop,Documents,Home directory,Floppy and Tempory files.
I have been getting around this by saving and then moving the files but now I have encounterd dependency hell and need to use Find Files to find files on my DVD drive.I can only search the places I mentiond above,how can I add my backup partition, CD and DVD drives to the save as and find files boxes.
Mike Tidball.

--
The Mailing List for the Devon & Cornwall LUG
Mail majordomo@xxxxxxxxxxxx with "unsubscribe list" in the
message body to unsubscribe.
---
Lynx friendly