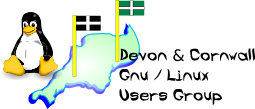 Devon & Cornwall Linux Users' Group
[ Date Index ][ Thread Index ]
[ <= Previous by date / thread ] [ Next by date / thread => ]
[LUG] X + Consoles
---
---
I have recently managed toget my Linux box back working after a nasty disagreement with apt (my fault)
Problem I can't seem to resolve is this;
I am unable to get a cnosole running inside X, multi-gnome-terminal brings up a window and then hangs, unable to close the app, xterm doesn't launch at all (although it doesn't complain !)
The processes look to be active when using "ps" but thats all, I can kill them and re-run them with te same result every time.
Can anyone help me with this annoying problem ?
Thanks Guys
Neil

--
The Mailing List for the Devon & Cornwall LUG
Mail majordomo@xxxxxxxxxxxx with "unsubscribe list" in the
message body to unsubscribe.
---
Lynx friendly