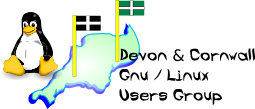 Devon & Cornwall Linux Users' Group
[ Date Index ][ Thread Index ]
[ <= Previous by date / thread ] [ Next by date / thread => ]
Re: [LUG]was first e-mail
---
---
On Friday 20 Dec 2002 11:30 am, Rick Timmis wrote:

Man pages are concise, and expect you to understand the syntax. When I 
started using Linux, people used to say things like man rpm. I used to 
reply "What F'ing use it that if I don't understand it , I suppose your 
going to say man man!"



Today I typed "man man" in a terminal....just to make sure Rick *was* using 
this humurous anecdote to illustrate how intricate and extensive the manual 
pages might >seem< to a new user........

       Somehow I find it reassuring that the manual has a manual, did I say 
reassuring......what I ment to say was surreal.

Happy Aeroplane Filter.
JD

--
The Mailing List for the Devon & Cornwall LUG
Mail majordomo@xxxxxxxxxxxx with "unsubscribe list" in the
message body to unsubscribe.


---
Lynx friendly