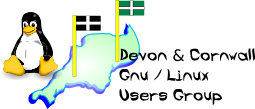 Devon & Cornwall Linux Users' Group
[ Date Index ][ Thread Index ]
[ <= Previous by date / thread ] [ Next by date / thread => ]
[LUG] PCMCIA Modem
---
---
DOH!
Well I stuck the PCMCIA Modem in the side of this laptop. RH7.3 Hasn't found it (Bugger!), I treid having a look at modprobe -c, but can't make head nor tail of that.
I loaded Knoppix with the CD Kai gave me and it found it straight off . Can anyone point me in the right direction to get it going under Red Hat.
Thanks Rick

--
The Mailing List for the Devon & Cornwall LUG
Mail majordomo@xxxxxxxxxxxx with "unsubscribe list" in the
message body to unsubscribe.
---
Lynx friendly