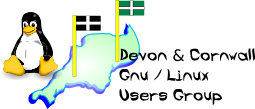 Devon & Cornwall Linux Users' Group
[ Date Index ][ Thread Index ]
[ <= Previous by date / thread ] [ Next by date / thread => ]
Re: [LUG] PCMCIA Modem for Laptop
---
---
That would be brilliant
Thanks
David Johnson wrote:
Rick Timmis wrote:



If you've got one, even just to tryout I would be very grateful

Thanks Rick



I have actually got two of them lying around, neither of which are any use anymore, so you can certainly have one.
I've had it working with RH 7.3 and MDK 8.0 in the past - it should work with pretty much anything. It's a 3com 3CCM156B.

David.



--
The Mailing List for the Devon & Cornwall LUG
Mail majordomo@xxxxxxxxxxxx with "unsubscribe list" in the
message body to unsubscribe.
---
Lynx friendly