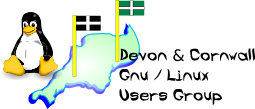 Devon & Cornwall Linux Users' Group
[ Date Index ][ Thread Index ]
[ <= Previous by date / thread ] [ Next by date / thread => ]
Re: [LUG] Meeting 15-12-2002
---
---
On Thu, 12 Dec 2002 11:03:39 +0000
Richard Brown <rich@xxxxxxxxxxxxxxxxxxxx> wrote:


Hi All

Just to let you know the landlord says he will be there from around 11.15am 
onwards but he can't serve alcohol until 12pm!!! 



Arghh......

Still, no doubt other local pubs can serve beer before midnight! 8-)

Terence

--
The Mailing List for the Devon & Cornwall LUG
Mail majordomo@xxxxxxxxxxxx with "unsubscribe list" in the
message body to unsubscribe.


---
Lynx friendly