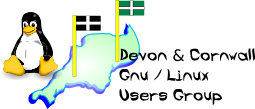 Devon & Cornwall Linux Users' Group
[ Date Index ][ Thread Index ]
[ <= Previous by date / thread ] [ Next by date / thread => ]
[LUG] What's everyone doing ?
---
---
This is a question I nicked from uk.business.agriculture (where the answers 
are sort of seasonal ...) but which sometimes spins off tangentially.

I'm sitting in the office (I have no life) documenting some bugs in a client's 
software suite and trying (unsuccessfully) to download a 122MB Nokia Series 
60 SDK over an Freeserve ISDN connection.

And looking at Kdevelop. Which seems to have a sense of humour when it comes 
to make. 

Anyone else out there develop software on Linux ? What do *you* use as a 
development environment ? I guess I've been spoiled by the usability of MSVC, 
but I'm finding the move to Linux for development beyond cc a bit of a 
struggle.

jd
-- 
John Daragon           argv[0] limited               john@xxxxxxxxxx
Lambs Lawn Cottage, Staple Fitzpaine, Taunton TA3 5SL, UK
(house) 01460 234576                           (office) 01460 234068
(mobile) 07836 576127                          (fax)     01460 234069

--
The Mailing List for the Devon & Cornwall LUG
Mail majordomo@xxxxxxxxxxxx with "unsubscribe list" in the
message body to unsubscribe.


---
Lynx friendly