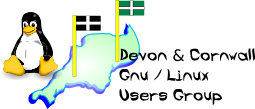 Devon & Cornwall Linux Users' Group
[ Date Index ][ Thread Index ]
[ <= Previous by date / thread ] [ Next by date / thread => ]
[LUG] DNS again
---
Subject: [LUG] DNS again
From: Steve Marvell <steve@xxxxxxxx>
Date: Fri, 30 Aug 2002 16:43:19 +0100
Content-disposition: inline
Reply-to: list@xxxxxxxxxxxx
---
Yo

So, if I set myself up as a DNS server, presumably, I'm gonna want to
check my cache periodically. Assuming the client is not a big fan of
lots of dialup (presently gets email twice a day and uses internet
about 10 times), is there a way of making my DNS server not cache
anything, so not dialup to check cache?

In fact, is there a good way, other than cronning pon and poff, to
make sure I do any dialup they don't want.

Cheers

Steve

--
The Mailing List for the Devon & Cornwall LUG
Mail majordomo@xxxxxxxxxxxx with "unsubscribe list" in the
message body to unsubscribe.


---
Lynx friendly