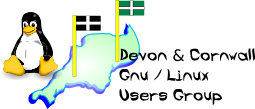 Devon & Cornwall Linux Users' Group
[ Date Index ][ Thread Index ]
[ <= Previous by date / thread ] [ Next by date / thread => ]
Re: [LUG] UPS
---
---




The West of England suffer a lot from Lightning Strikes and high wind shorts 
(Cable to Cable).
All our supplies are via 3 phase over head systems from up country.


Not all of them. But even here in Exeter I see a fair number of
supply glitchs, usually on all 3 phases, sometimes single phase.
As well as the time last year SWEB decided that it was a good
idea to deliver 260V...




Shouldn't your home transformer sort out fluctuations like that?  A sign



Transformers are basically garbage in/ garbage out. They don't 
do anything to regulate voltage. Anyway individual transformers to
specific properties are very unusual in the UK. You'd only tend
to find them in either remote places or where a large supply,
e.g. more than 100A per phase is needed.


that your have a crappy electrical setup is (as I have been told) if
your light bulbs do not last very long.



--
The Mailing List for the Devon & Cornwall LUG
Mail majordomo@xxxxxxxxxxxx with "unsubscribe list" in the
message body to unsubscribe.


---
Lynx friendly