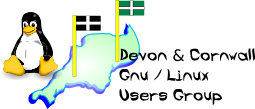 Devon & Cornwall Linux Users' Group
[ Date Index ][ Thread Index ]
[ <= Previous by date / thread ] [ Next by date / thread => ]
[LUG] onsite installations
---
Subject: [LUG] onsite installations
From: Steve Marvell <steve@xxxxxxxx>
Date: Wed, 10 Jul 2002 09:32:18 +0100
Content-disposition: inline
Reply-to: list@xxxxxxxxxxxx
---
Good morning esteemed linux users, I have a "choice of distro"
question. 

I'm installing a linux box on a site that will not be using dialout
regularly, so can effectively be assumed to be "not on the internet"
unless it really has to be.

Though I like Debian the best, it does rather require you to keep up
with the upgrades. 

My questions is ... what distro can I give them that comes with the
normal suite of thing (apache, perl 5.6, postgres, etc) and I can bung
on for them?

I've used and liked Suse before and I've used and hated RedHat.

Your thoughts would be appreciated.

Steve

--
The Mailing List for the Devon & Cornwall LUG
Mail majordomo@xxxxxxxxxxxx with "unsubscribe list" in the
message body to unsubscribe.


---
Lynx friendly