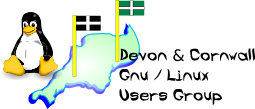 Devon & Cornwall Linux Users' Group
[ Date Index ][ Thread Index ]
[ <= Previous by date / thread ] [ Next by date / thread => ]
[LUG] Exeter
---
---
-----BEGIN PGP SIGNED MESSAGE-----
Hash: SHA1



Maybe i've missed a posting, but...


Where at the uni will we be?
What time does it start?

I've got a few friends and work colleagues comming, and they like to "plan"
things, urgh ;)


~ Theo, posting from the right address this time.


- -- 

Theo Zourzouvillys
http://zozo.org.uk/

"... an experienced, industrious, ambitious, and often quite often
picturesque liar."
               -- Mark Twain
-----BEGIN PGP SIGNATURE-----
Version: GnuPG v1.0.6 (GNU/Linux)
Comment: For info see http://www.gnupg.org

iD8DBQE8w6aS448CrwpTn6YRArZhAKCzAcDx25J4EdHX8SUHjeIe5pqnJACfTfqk
c5xR0xxfXZT4RfMBdUDMfAY=
=5ll5
-----END PGP SIGNATURE-----


--
The Mailing List for the Devon & Cornwall LUG
Mail majordomo@xxxxxxxxxxxx with "unsubscribe list" in the
message body to unsubscribe.


---
Lynx friendly