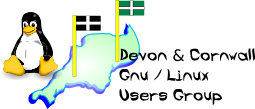 Devon & Cornwall Linux Users' Group
[ Date Index ][ Thread Index ]
[ <= Previous by date / thread ] [ Next by date / thread => ]
[LUG] cross-platform/cross-machine clipboard?
---
---
I'd like an easy way to put something onto a clipboard on one machine, and 
pick it off in another machine.

mailslots are a solution (though one I've not applied) on the windows  
platform, can that be applied acros  a samba network, or is a simple shared 
file with a daemon syunchronising the displays every second a better answer?

Or is this something named pipes are good for? 
-- 
From one of the Linux desktops of Dr Adrian Midgley 
http://www.defoam.net/             

--
The Mailing List for the Devon & Cornwall LUG
Mail majordomo@xxxxxxxxxxxx with "unsubscribe list" in the
message body to unsubscribe.


---
Lynx friendly