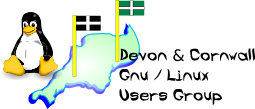 Devon & Cornwall Linux Users' Group
[ Date Index ][ Thread Index ]
[ <= Previous by date / thread ] [ Next by date / thread => ]
[LUG] CORNWALL PUB LUNCH - SUNDAY
---
---
Matt Lee wrote:



Any Exeter Linux people fancy a meet this Sunday?



I'll have spare seats so if we get a Cornwall meet organised,
I'll give lists from Exmouth/Exeter, no problems.

Asked around for good pubs - so far the Notter Inn (?) on the
A38 is the best location, but it is a long way from Truro still,
being a few miles West of Saltash.

Unless Cornish users can come up with a better pub suggestion.

Who'll be there for Sunday lunch?

Simon

-- 
Open Source Software Day at Exeter University Saturday 27th
April 2002
       http://www.dclug.org.uk/ossday/

--
The Mailing List for the Devon & Cornwall LUG
Mail majordomo@xxxxxxxxxxxx with "unsubscribe list" in the
message body to unsubscribe.


---
Lynx friendly