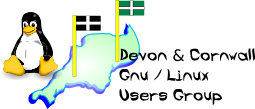 Devon & Cornwall Linux Users' Group
[ Date Index ][ Thread Index ]
[ <= Previous by date / thread ] [ Next by date / thread => ]
RE: [LUG] Unable to boot system
---
---


-----BEGIN PGP SIGNED MESSAGE-----
Hash: SHA1


Nope, that made no difference. In this case it was
'/dev/ida/c0d0p5'.  



are the SMART array kernel modules compiled into your kernel?

- From kernel Documentation/Configure.help:

Compaq Smart Array support
CONFIG_BLK_CPQ_CISS_DA
  This is the driver for Compaq Smart Array 5xxx controllers.
  Everyone using these boards should say Y here.
  See Documentation/cciss.txt for the current list of
  boards supported by this driver, and for further information   
  on the use of this driver.

Theo


Theo Zourzouvillys
Global Network Consultant

+ Notnet Consultancy [ www.notnet.co.uk ]
- Specialising in Unix security, ISP Start-up and regeneration, 
- MySQL solutions, E-commerce, and Load balancing.
+ Notnet.co.uk - Quality web hosting at an affordable price
- http://pinky.notnet.co.uk/
+ http://www.anlx.net/
+ Mobile: +44 7747 844 300
+ theo@xxxxxxxxxxxxxxxx
+ Personal Website: http://www.zozo.org.uk/
+ Spod: telnet://www.trekkers-rest.com:3000/


-----BEGIN PGP SIGNATURE-----
Version: PGP 7.0.4
Comment: Current PGP Key from http://www.crazygreek.co.uk/pgpkey.txt

iQA/AwUBPF5me+OPAq8KU5+mEQLT0gCfXC715NXtBcXDeJxi3g1/y4FWkq8An0t+
WlyCvJnQcuv7Dgr1wyULgapj
=q4i5
-----END PGP SIGNATURE-----



--
The Mailing List for the Devon & Cornwall LUG
Mail majordomo@xxxxxxxxxxxx with "unsubscribe list" in the
message body to unsubscribe.


---
Lynx friendly