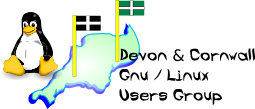 Devon & Cornwall Linux Users' Group
[ Date Index ][ Thread Index ]
[ <= Previous by date / thread ] [ Next by date / thread => ]
Re: [LUG] digital tele
---
---
On Tuesday 08 January 2002 8:41 pm, you wrote:

Slightly off topic,

Anyone see Enterprise on Monday (sky one 8pm).

Paul



Slightly??? I didn't see any penguins in it!
(Do most members have digital tele?)

OK - who can come up with a way for Paul to get this thread back within the 
realms of D&C LUG?!!??! (We'll start getting all sorts of unlikely traffic to 
the web archive once a few search robots get a taste of Paul's original 
header!)

-- 

Neil Williams
=============
http://www.codehelp.co.uk
neil@xxxxxxxxxxxxxx
linux@xxxxxxxxxxxxxx
neil@xxxxxxxxxxxx


--
The Mailing List for the Devon & Cornwall LUG
Mail majordomo@xxxxxxxxxxxx with "unsubscribe list" in the
message body to unsubscribe.


---
Lynx friendly