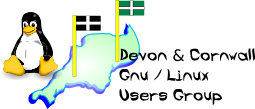 Devon & Cornwall Linux Users' Group
[ Date Index ][ Thread Index ]
[ <= Previous by date / thread ] [ Next by date / thread => ]
Re: [LUG] Open Source and EU patent law
---
---
On Tuesday 01 July 2003 11:12, you wrote:

> Adrian Midgley wrote:
> > On Tuesday 01 July 2003 00:04, you wrote:
> >>http://www.theregister.co.uk/content/4/31472.html
> >>
> >>It's rather long but makes scary reading.
> >
> > It is not entirely accurate.
>
> In what way?

Was the note that the vote is in September present in the 
_original_ version of that article?  I rather thought it had 
declared all was lost, and the vote today.

I do not think that the move to US type patents in the EU is 
inevitable, so it is worth continuing to lobby against it.


-- 
From the Linux desktops of Dr Adrian Midgley 
http://www.defoam.net/             

--
The Mailing List for the Devon & Cornwall LUG
Mail majordomo@xxxxxxxxxxxx with "unsubscribe list" in the
message body to unsubscribe.


---
Lynx friendly