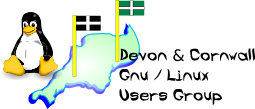 Devon & Cornwall Linux Users' Group
---
[
Date Prev
][
Date Next
][
Thread Prev
][
Thread Next
][
Date Index
][
Thread Index
]
Re: [LUG] Mozilla & SSL.
---
---


On Fri, 4 Aug 2000, Aaron Trevena wrote:

> Nightly builds on the M17 tree are getting quite polished now with good
> stability but it still uses 25MB of Memory + Cache (for talkback enabled).

Thats still not very helpful for me - the machine I've been using most
only has 24mb physical.  I'll have to stick to netscape for the mo then.

-=-=-Alex Charrett-=-=-
		SMS: chas at termisoc.org subject:SMS
Mail:   chas at termisoc.org		Web: http://www.termisoc.org/~chas/

--
lug-list - The Mailing List for the Devon & Cornwall LUG
Mail majordomo at lists.termisoc.org with "unsubscribe lug-list" in the
message body to unsubscribe.


---
Lynx friendly