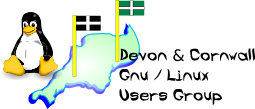 Devon & Cornwall Linux Users' Group
---
[
Date Prev
][
Date Next
][
Thread Prev
][
Thread Next
][
Date Index
][
Thread Index
]
[LUG] Linux on Laptops
---
---


Though't I'd share my Linux on a Laptop experience with you all.  

The laptop in question is my IBM thinkpad 560 (120mhz, 24mb ram).

After an evening of experimentation I'ts working prerry much spot on. I
had some major issues with getting X to work, rather than just flicker
alot and have half the screen missing.  I resorted to a "Linux Thinkpad
560" search on Google and found someone else's XF86Config, which i took a
copy of and installed.  The only adjustment i needed to do to that X
config after that was to set the keyboard to UK rather than that odd US
one.

The other questionable piece of hardware was the sound device (an ess
audiodrive job) which did't work with the ESS setups RedHat comes with,
but works fine under soundblaster compatabilty.

Not tried the modem yet tho....

-=-=-Alex Charrett-=-=-
		SMS: chas at termisoc.org subject:SMS
Mail:   chas at termisoc.org		Web: http://www.termisoc.org/~chas/

--
lug-list - The Mailing List for the Devon & Cornwall LUG
Mail majordomo at lists.termisoc.org with "unsubscribe lug-list" in the
message body to unsubscribe.


---
Lynx friendly