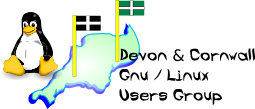 Devon & Cornwall Linux Users' Group
---
[
Date Prev
][
Date Next
][
Thread Prev
][
Thread Next
][
Date Index
][
Thread Index
]
Re: [LUG] Thanks (plus boot query)
---
---

On Tue, 2 May 2000, Mark Harvey wrote:
> Now all I have to do is work out how to get the httpd and mysqld to start
> on boot.

Assuming you are using redhat:

At the prompt type "ntsysv".
This will give you a list of all daemons which can be started at boot.

Find the httpd & mysqld options and make sure they are selected (from
memory it is a * or a X).

This should do it.

There are other ways of doing it, but this is easiest.

R

-- 
Robert Callaghan (norm at termisoc.org)
PGP FingerPrint: B29E 6BB5 B4F0 38D8 CCA9  3BEB EDF0 0A36 9732 7173

"Well, what else were you expecting?"

--
lug-list - The Mailing List for the Devon & Cornwall LUG
Mail majordomo at lists.termisoc.org with "unsubscribe lug-list" in the
message body to unsubscribe.


---
Lynx friendly