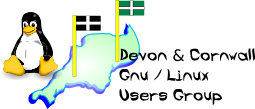 Devon & Cornwall Linux Users' Group
---
[
Date Prev
][
Date Next
][
Thread Prev
][
Thread Next
][
Date Index
][
Thread Index
]
Re: [LUG] lug website
---
---


Hi

>The robmeister has just reminded me about the members links secrion of the
>lug website.
>
>If youve got a website, chuck me the url and I'll stick you on it.

www.cyber-warlock.co.uk but there is bugger all there ATM.

TTFN

Mex

--
lug-list - The Mailing List for the Devon & Cornwall LUG
Mail majordomo at lists.termisoc.org with "unsubscribe lug-list" in the
message body to unsubscribe.


---
Lynx friendly