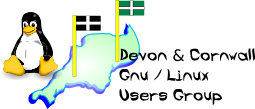 Devon & Cornwall Linux Users' Group
---
[
Date Prev
][
Date Next
][
Thread Prev
][
Thread Next
][
Date Index
][
Thread Index
]
Re: [LUG] Pub
---
---

On Thu, 3 Feb 2000, Robert Callaghan wrote:
> > 
> > Noooo! keith needs a distro at least 5 cd's big. X windows installs are
> > newbies. Go on keith go the whole hog and install freebsd!
> 
> And for those who wish to use a dist that ONLY has a X-based installer??

No distro should have ONLY an X based installer - many bad things could
happen if you don't have an old ANSI interface to fall back on. Often ANSI
is clearer than X or Win with what you should do.
 
> GUI installs are not all bad.  I am use to the text-based installs of
> RedHat and SuSE (yast-1), but there is nothing wrong with a ***GOOD*** GUI
> installer.
> To be fair, I've not seen a good GUI installer yet (I know that SuSE 6.3
> has one, but I am not sure what it is like) but there is nothing wrong
> with them.

SuSE 6.3 still has issues - I think it would be very hard to have an X GUI
that experts could really use like yast and beginners would understand
and find simple.

> And as for a dist that comes on 5+ disks.  You could easily put together a
> dist of 5+ disks, but it is the quality of what is on them (and the
> quality of the system as a whole) that is important.
> That fiend of a linux dist (corel) could come on 10 disks, with all the
> software I could ever need and then some, but I would not use it (the
> experince I had with it f'ing my system has put me off).

Yup. Avoid coverdisk distro's - the duplicators probably use windoze based
machines which invariably cain vital bits here and there.

My first distro (that I bought) was RH powertools which was the 1 disk
rh5.1 with a disk of powertools and source - needless to say I used a
fraction of it. Even with SuSE I still download a lot of stuff from the
net, but trying out new apps from the CD helps you learn whats about and
various things about unix - exploring the stuff in SUSE is v cool.

A. (going to stop trolling now..)

-- 
<!-- betty  at  area51 --><A HREF = "http://www.termisoc.org/~betty">
LAUNCELOT:  We were in the nick of time. You were in great peril.
GALAHAD:    I don't think I was.
LAUNCELOT:  Yes, you were. You were in terrible peril.
GALAHAD:    Look, let me go back in there and face the peril.
LAUNCELOT:  No, it's too perilous.

--
lug-list - The Mailing List for the Devon & Cornwall LUG
Mail majordomo at lists.termisoc.org with "unsubscribe lug-list" in the
message body to unsubscribe.

---
Lynx friendly