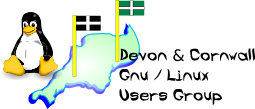 Devon & Cornwall Linux Users' Group
---
[
Date Prev
][
Date Next
][
Thread Prev
][
Thread Next
][
Date Index
][
Thread Index
]
Re: [LUG] Pub
---
---

Rob's got a point.  RedHat may only come on a single CD but it's good
stuff ant it works.  1/2 the stuff on the SuSE CDs I'm never going to
touch simply throught lack of time to investigate everything.

J.

-- 
Jon Still  <jon at termisoc.org>
http://www.termisoc.org/~jon/

"The chain which can be yanked is not the eternal chain."
		-- G. Fitch

--
lug-list - The Mailing List for the Devon & Cornwall LUG
Mail majordomo at lists.termisoc.org with "unsubscribe lug-list" in the
message body to unsubscribe.

---
Lynx friendly