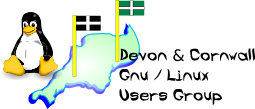 Devon & Cornwall Linux Users' Group
---
[
Date Prev
][
Date Next
][
Thread Prev
][
Thread Next
][
Date Index
][
Thread Index
]
Re: [LUG] Intro
---
---


On Thu, 4 Nov 1999, John Horne wrote:

> What, no fun finding out all those nasty little problems?? I see that RH
> have already released a new floppy boot disk and a few new rpms. Looks
> good...NOT!

One bit of credit to them, making the iso image available was a good plan,
enabling me to download it and write it to a cd without all that faffing
around with trans.tbls and making it bootable.

-=-=-Alex Charrett-=-=-
FluxBBS Sysop and TermiSoc Technical Officer
 
chas at termisoc.org
http://www.termisoc.org/~chas/

--
lug-list - The Mailing List for the Devon & Cornwall LUG
Mail majordomo at lists.termisoc.org with "unsubscribe lug-list" in the
message body to unsubscribe.

---
Lynx friendly