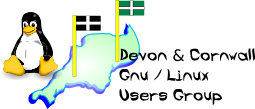 Devon & Cornwall Linux Users' Group
---
[
Date Prev
][
Date Next
][
Thread Prev
][
Thread Next
][
Date Index
][
Thread Index
]
Re: [LUG] Linux Install Fest 29.4.01
---
---


I will be there, but will not be able to bring a box, going by bus 
and my case is *quite* large.
Would like to see the X server installed from source,if posss, as CVS 
is the only way my graphics card is supported at the mo, my attempt 
crashed and burnt. Then I can ditch windows and play quake3 ;).  

Tom Laithwate
tomlai at eclipse.co.uk



--
lug-list - The Mailing List for the Devon & Cornwall LUG
Mail majordomo at lists.termisoc.org with "unsubscribe lug-list" in the
message body to unsubscribe.


---
Lynx friendly