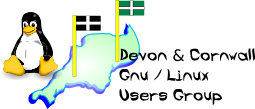 Devon & Cornwall Linux Users' Group
[ Date Index ][ Thread Index ]
[ <= Previous by date / thread ] [ Next by date / thread => ]
Re: [LUG] More On The Patents/M$ Agenda
---
---
----- Original Message ----- 
From: "Sadie Brinham" <barmy_fungy_fips@xxxxxxxxxx>
To: <list@xxxxxxxxxxxx>
Sent: Thursday, November 18, 2004 2:12 PM
Subject: [LUG] More On The Patents/M$ Agenda



http://www.theregister.co.uk/2004/11/18/ballmer_linux_lawsuits/

Think this is spot on.
Additionally,someone did mention a while back that M$ was moving to 
patent the internet protocols.



I knew I liked the Polish! :)

Julian

--
The Mailing List for the Devon & Cornwall LUG
Mail majordomo@xxxxxxxxxxxx with "unsubscribe list" in the
message body to unsubscribe.



---
Lynx friendly