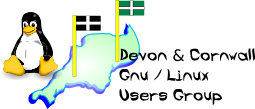 Devon & Cornwall Linux Users' Group
[ Date Index ][ Thread Index ]
[ <= Previous by date / thread ] [ Next by date / thread => ]
Re: [LUG] Windows for RN Warships
---
---
On Fri, 2004-11-05 at 23:29, Keith Abraham wrote:

Just seen this:-

http://www.theregister.co.uk/2004/11/05/mod_oks_win2k_warships/

MS Windows 2000!!. God help us all!!

Keith



Saw the original story last week and frankly it scares me.
Distinct smell of greased palms if you ask me.

Matt



--
The Mailing List for the Devon & Cornwall LUG
Mail majordomo@xxxxxxxxxxxx with "unsubscribe list" in the
message body to unsubscribe.



---
Lynx friendly